NEW STAND-ALONE NOVEL
by USA Today Bestselling Author, Chelle Bliss
Released on January 26th – LIVE

EVERYTHING CHANGED IN AN INSTANT.
I thought I knew what was important, but one phone call sent my life into a tailspin.
Alone and afraid, I cling to the one man I shouldn't.
I was warned about him and told to stay away. "He's dangerous," they said.
But the man who could hurt me the most, gave me the greatest comfort.
"He's not who they think," I told myself.
But just like an illusion, things are never what they seem.

REVIEW
Alysha's Thoughts:
Definitely some ugly cries and emotional moments during this book; that's for sure! Enshrine by Chelle Bliss is just so real, intense, and it just entraps you. The journey she takes you on with Callie and Bruno is so spectacular. How Chelle writes from Callie's perspective, she captures every thought and emotional perfectly. It's truly impossible for you not to feel it deep in your heart as a reader. The topic of Cancer is rarely written about, it is a sensitive subject, yet so many people are affected by it. I know I've seen what it does to people, but Chelle was able to provide strength in her words even while showing the ugly treatment side.
Callie is the type of woman who is completely independent. She never leans on anyone and makes sure she spoils herself rotten with the most expensive things. Some would say she's very shallow or materialistic. One day it all came crashing down, Callie wondered if it was all worth it. She was given the death sentence "cancer," and all of the sudden she realized her life had no meaning. Callie's best friend, Becca, was so worried about Callie when she shut Becca out of her life. So Becca enlisted the help of the sexy guy Callie eyeballed a few times, Bruno "The Butcher." Callie was so confused and upset when Bruno took it upon himself to help Callie "Kick Cancer's Ass." Little did she know though, was that she and Bruno shared a drunken history together. Bruno showed Callie so much love and reminded her she did have things and people to fight for. The road was rough and long, she felt like a stranger to herself at times, but Bruno never let her give up. The only thing was Callie was unsure of what future she had with "The Butcher."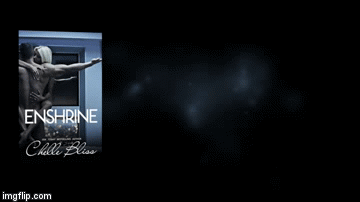 Available at the following retailers
AMAZON
IBOOKS
NOOK
KOBO
GOOGLEPLAY
ENSHRINE GIVEAWAY – OPEN INTERNATIONALLY
ABOUT THE AUTHOR
USA Today Bestselling author, Chelle Bliss, currently lives in a small town near the Gulf of Mexico in Florida. She's a full-time writer, time-waster extraordinaire, social media addict, and coffee fiend. She's written over ten books and has two series available. She loves spending her free time with her boyfriend, 2 cats, and her hamster.
Before becoming a writer, Chelle taught high school history for over ten years. She holds a master's degree in Instructional Technology and a bachelor's in history. Although history is her first love, writing has become her dream job and she can't imagine doing anything else.
FACEBOOK | NEWSLETTER | TWITTER | INSTAGRAM | WEBSITE
ALSO BY CHELLE BLISS
AMAZON | IBOOKS | NOOK | KOBO | GOOGLE | WEBSITE